About Us


About The Shop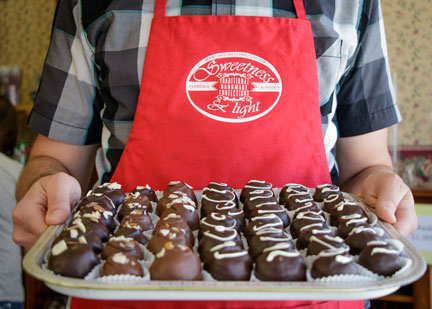 More than a century ago, a few determined European farm families settled the area that later became known as Ferndale. Happily, the tapestry of this history is felt and seen still. Here, next to the post office, our candy kitchen and store stays rooted in the customary ways. The sight, fragrance, and taste of handmade chocolates are part of a Ferndale tradition which our confectionery has maintained since the turn of the century.
Sweetness and Light is an old-fashioned, family-owned candy kitchen and store located in victorian Ferndale CA. All of our confections are handmade including salted caramel, chocolate covered caramel, chocolate truffles, brittles, caramels, fudges, candy bars, bon bons and more using traditional ways. Our confections make the perfect gift for all seasons and with our large variety of treats you are sure to find something for everyone on your shopping list. Not only do we sell these creations in our store in Ferndale and our online store, but we also fill other special orders such as weddings. Next time you are visiting Eureka, Fortuna, Loleta, or just passing through Humboldt County be sure to come by and check us out!
Following the rich classic recipes, we still hand-make our candies in small batches using the freshest and best ingredients available — local butter and cream from Humboldt Creamery, real fruit flavors and the finest chocolate. We work them on marble slabs, cook them in copper kettles, and never use preservatives. We hope you enjoy the results of our old-fashioned ways.


About The Owners
The Owners, Matt & Tami Toste, both have a rich local family history. Both were born and raised locally in the Ferndale, CA area. When Matt was in highschool, he got a job at Sweetness and Light and began to learn the skills and techniques involved with making traditional handmade chocolate. After working at Sweetness and Light for five years the opportunity came up to take over operations of the shop and couldn't be passed up.
Never looking back, Matt & Tami along with their three daughters, Ava, Emma, & Nora, continue to serve their local community by creating delicious chocolates in all shapes and sizes and donating to many local events. They are glad to share these treats with you, your family, and your friends and hope that you enjoy them as much as they do! If you ever have any questions or concerns please feel free to give them a call at (800) 547-8180 or use our simple contact form.